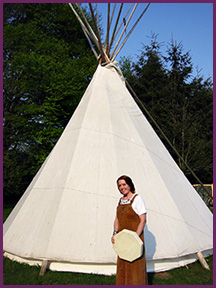 Are you losing your spiritual core while trying to navigate through an increasingly complex world?  It's not as hard as you might think to live a life of balance, health and abundance.
I've been a student of human potential and how to live a life of balance since the age of seven and have tried A LOT of things, much of which was not helpful. My passion is to share what I found that works.
One of my best and most life-changing experiences was to have known Marcellus "Bear Heart" Williams and to have co-authored his autobiography, The Wind is My Mother; the Life and Teachings of a Native American Shaman. The book has been in continuous print since 1996 in the U.S. and translated into 12 languages. It clearly has struck a chord with people worldwide.
In the Spring of 2012 an updated edition and e-book was released.  The update included an Epilogue with additional stories of Bear Heart's life.
Through my blog and classes I am doing my best to carry on his work of sharing simple truths from indigenous cultures that can profoundly improve the way we live our lives and our contribution to the world.
I invite you to sit back, enjoy exploring this website and sign up to receive my blog posts. And get a free e-book at the same time!
Blessings,
Molly
"I participated in Molly's Sacred Lodge for several years. She is a warm, kind and impeccable teacher. Her warmth, humor and generosity made the lodge experience a celebration. As a result of being part of her lodge, I learned more about being in community, endurance, and joy of the earth and all its elements. Blessings to you Molly, and all who cross your path."   Nancy C., California