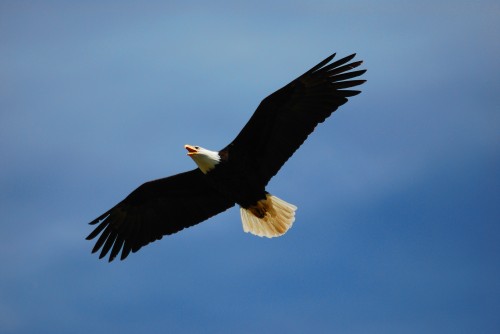 There is always much to be learned from the animal world, even about courtship . . . and even from eagles.
I myself made many bad relationship choices in my youth; I always seemed to go for flash and no substance in men. And part of that came from not valuing myself enough.
How many of us settle for less than we deserve, rather than be courageous enough to be on our own? I believe it's a common issue among both men and women.
Thankfully, I eventually matured and learned that not wanting to be alone was a poor relationship standard. Once I learned to respect and value myself, I no longer made those poor choices.
I believe learning to value ourselves, just as we are, is one of the most important, character-building things we can do for ourselves.
So I really enjoyed reading the following two teachings from Native American elders about how to choose a mate.
Molly Larkin is the co-author of the international best-seller "The Wind Is My Mother; The Life and Teachings of a Native American Shaman." She is passionate about helping people live life to their fullest potential through her classes and blog at www.MollyLarkin.com