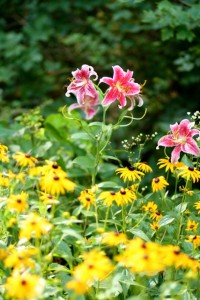 In the Celtic calendar, May 1 is Beltaine, the first day of summer: the time to celebrate life, growth and love.   The word "Beltaine" derives from the ancient Celtic words for "brilliant fire."
Our Gregorian calendar says its still spring.  But who cares?  It's what's going on outside our window that's important.  Mother Nature doesn't follow calendars, as we well know.
And again, this is not the post I had planned for this week.  But as I sat in meditation this morning, listening to the birds, frogs and crickets sing their songs, I suddenly realized it was May 1 and the perfect day to write about what's going on in the natural world.
The First of May, known as May Day, has a tradition of festivals throughout the centuries.  It's a time of celebration of springtime fertility [of soil, livestock and humans] and I would add: beauty!
The return of the Green
After a long hard winter here in Michigan, the weather has turned summer-like very quickly.
It seems as though just a few days ago the woods were bare of leaves and as I look out today, everything is turning green.  At an astounding rate!
Mother Nature was waiting for warmth and sun just as we were.  And she's making up for lost time with fast growth.
As I ask myself what's the lesson to learn from this, what comes to mind is:  It's never too late!  Also, all good things come to those who wait.